Easy + No Fail Prime Rib Roast Recipe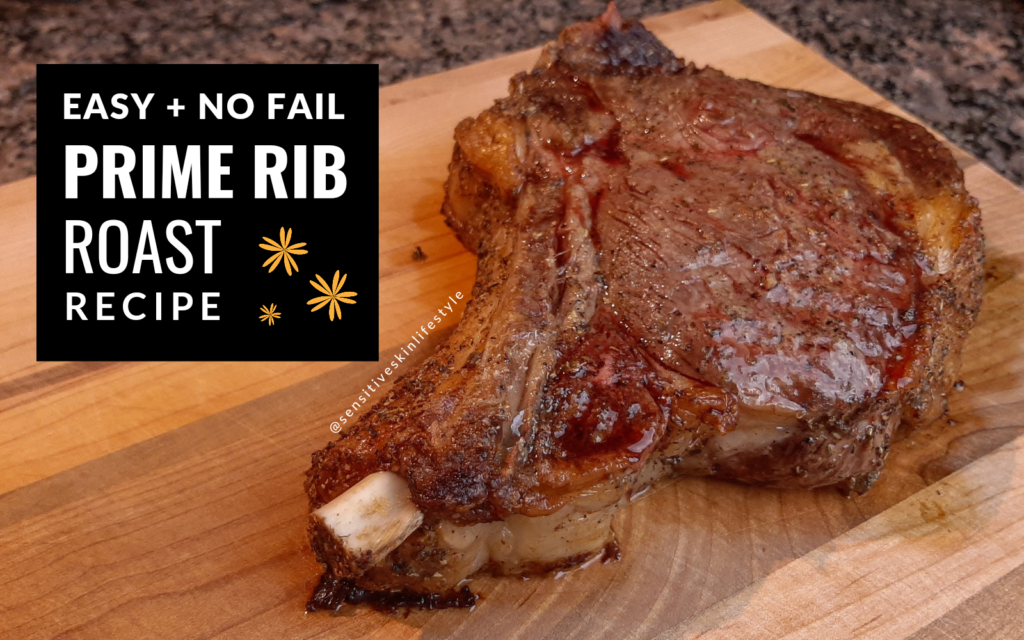 Prime Rib Roast – Ever since we found this recipe, we didn't go out to a restaurant for Prime rib roast ever again.
This recipe is 100% legit, we have made prime rib roast many times over the last 5 years using this very recipe and am very satisfied.
Flavorful, tender and never over-cooked. Consider trying it out and you will see!
I didn't come up with this recipe. This recipe is from Chef John – Food Wishes – and I totally recommend watching his Prime Rib recipe video.
The only thing I changed is, instead of letting in the oven for 2 hours, use a digital meat thermometer – and it will always come out perfect.
INGREDIENTS:
1 x bone-in prime rib roast
2 tbsp softened unsalted butter*
1 tsp ground black pepper*
1/2 tsp herb de provence*
kosher
*for 2 lbs (900g) of meat, adjust accordingly to the weight of your roast.
METHOD:

(Only works in regular ovens, not counter top ovens.)
1. Weigh and record down the weight of your raw prime rib roast in pounds.
2. Pat dry excess moisture with paper towel. Cover with cling wrap. Let the the meat sit at room temperature for at 8 hours.
3. Mix softened butter with Herb de Provence and ground black pepper. This amount is for 2lbs of meat. Pls adjust accordingly if your meat is heavier.
4. Brush on the seasoned butter to cover all sides of the meat (except the bottom).
5. Season all sides generously with kosher salt. (See image below)
6. Place beef in a pyrex glass baking tray or roasting pan. Insert a meat thermometer into the center of the roast.
7. Preheat oven to 500F/260C.
8.  Multiply the weight of your raw prime rib roast in pounds (lbs) by 5 mins. This will be X mins. Round up to the nearest min. This is the amount of time you will bake your roast in a preheated 500F/260C oven.
For example: 1.7 lbs x 5 = 9 mins.
9. Place baking tray in the middle rack of the preheated oven and bake for X mins as calculated in step 8.
10. Then immediately turn off the oven. Don't open the oven.  And let it continue to roast for 2 hours or until the internal temperature reaches 145F/63C, for medium. For medium rare, 135F/58C.
11. Remove the roast from the oven and let it rest for 10 mins.
12. Slice the roast into your desired thickness. Ready to serve with your favorite brown gravy, horseradish + your favorite side dishes!
Enjoy!
P.S. you can use this recipe to for top sirloin roast as well.