Juicy Holiday Roast Turkey Recipe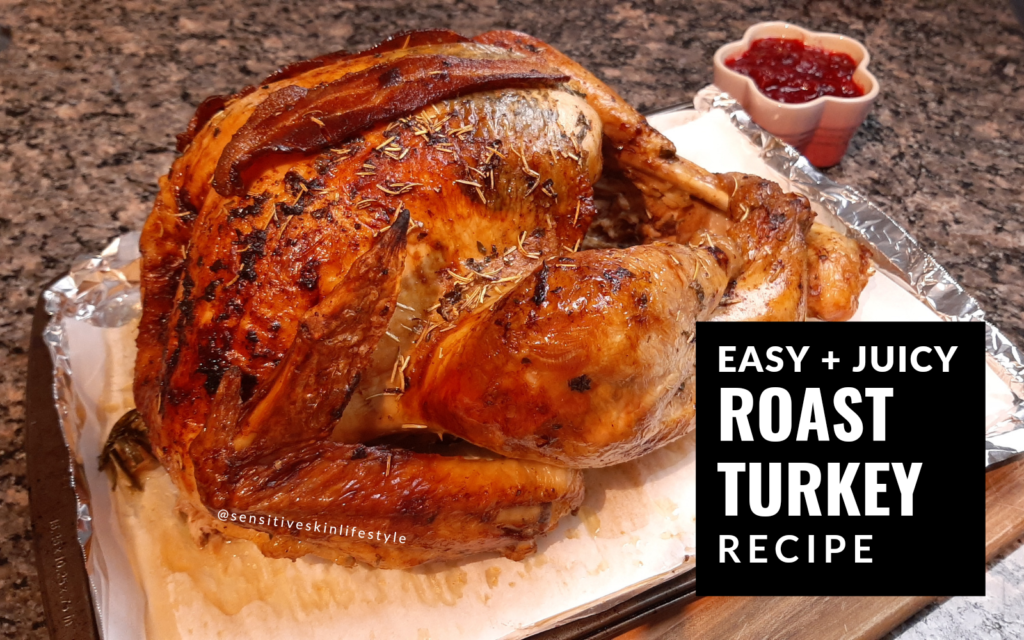 Made roast turkey today. Cooking up a juicy roast turkey is not difficult. The technique is very similar to the prime rib roast recipe that we always use.
This recipe is my spin on combining Gordon Ramsey's Christmas Turkey recipe + Jamie Oliver's Roast Turkey recipe. Hope you give it a try and enjoy it. Really – it's easy!
INGREDIENTS:
1 x fresh young whole turkey (~6 kg)*
1 large yellow onion, halved
2 strips of raw bacon
125g softened unsalted butter
4 springs of fresh rosemary
6 dried bay leaves
1/4 cup fresh parsley, finely chopped
3 tbsp extra virgin olive oil
1 tbsp lemon juice
1 tbsp kosher salt
1 tbsp brown sugar
1 tbsp ground black pepper
1 tsp dried rosemary
1 tsp dried sage
1/4 cup kosher salt (for washing)
extra kosher salt & ground black pepper for seasoning the cavity
*~8 to 9 servings
METHOD:
1. Let fresh turkey sit unopened at room temperature for 2 hours. Write down the weight if the turkey in kilos on paper.
2. Mix softened butter with lemon juice and finely chopped parsley.
3. In a small bowl, mix 1 tbsp kosher salt with brown sugar, dried sage, and grown black pepper.
4. Wash the turkey and its inerts well. Rub salt. Rinse. Pat dry with paper towels. Set gizzards aside (optional).
5. Place gizzards (optional), 2 sprigs of fresh rosemary, 2 sprigs of fresh thyme, 4 bay leaves on the roasting tray.
6. Place turkey breast side up on the aromatics.
7. Season the cavity with salt and pepper.
8. Stuff 2 sprigs of fresh rosemary, 2 sprigs of fresh thyme, 2 bay leaves and 2 onion halves into the cavity.
9. From the side of the cavity, carefully separate the skin from the breast without tearing the skin (watch here to see how what I mean) . Then stuff 2 tbsp of butter parsley paste into this area, spreading it evenly. This will keep the breast moist and tender.
10. Rub the remaining butter-parsley paste all over the turkey, including its wings and drum sticks. Then sprinkle the sugar-dry rub all over the turkey.
11. Stick in a meat thermometer into the thickest part of the drum sticks without touching the bone.
12. Preheat oven to 350F/180C.
13. Cover the turkey with aluminum foil. And place it in the center of the preheated oven.
14. Cook it for 30mins multiplied by the weight of the turkey in kilos. So for example, our turkey is 5.7kg. Then total cooking time in the oven would be 171 minutes which is 2 hours and 51 mins.
15. After 45 mins, take turkey out using a brush/spoon base the sauce in the roasting pan on the turkey all over.
16. Then re-cover with foil and put it back into the oven.
17. After another 45 mins, place two slices of bacon on the turkey breast. And cover the wing tips with foil to avoid burning.
18. Let it sit until the internal temperature of the turkey leg turns 170F/77C.
19. Remove roast turkey from oven. Remove foil. Drian any liquid from the cavity. Remove aromatics.
20. Transfer roast turkey to a serving plate. Let it cool at room temperature for the same amount of time you placed in the oven, or at least 2 hours.
21. Ready to serve with gravy, this epic natural cranberry sauce, stuffing and sides.
Left overs? You can freeze them.