Dim Sum Steamed Black Bean Spare Ribs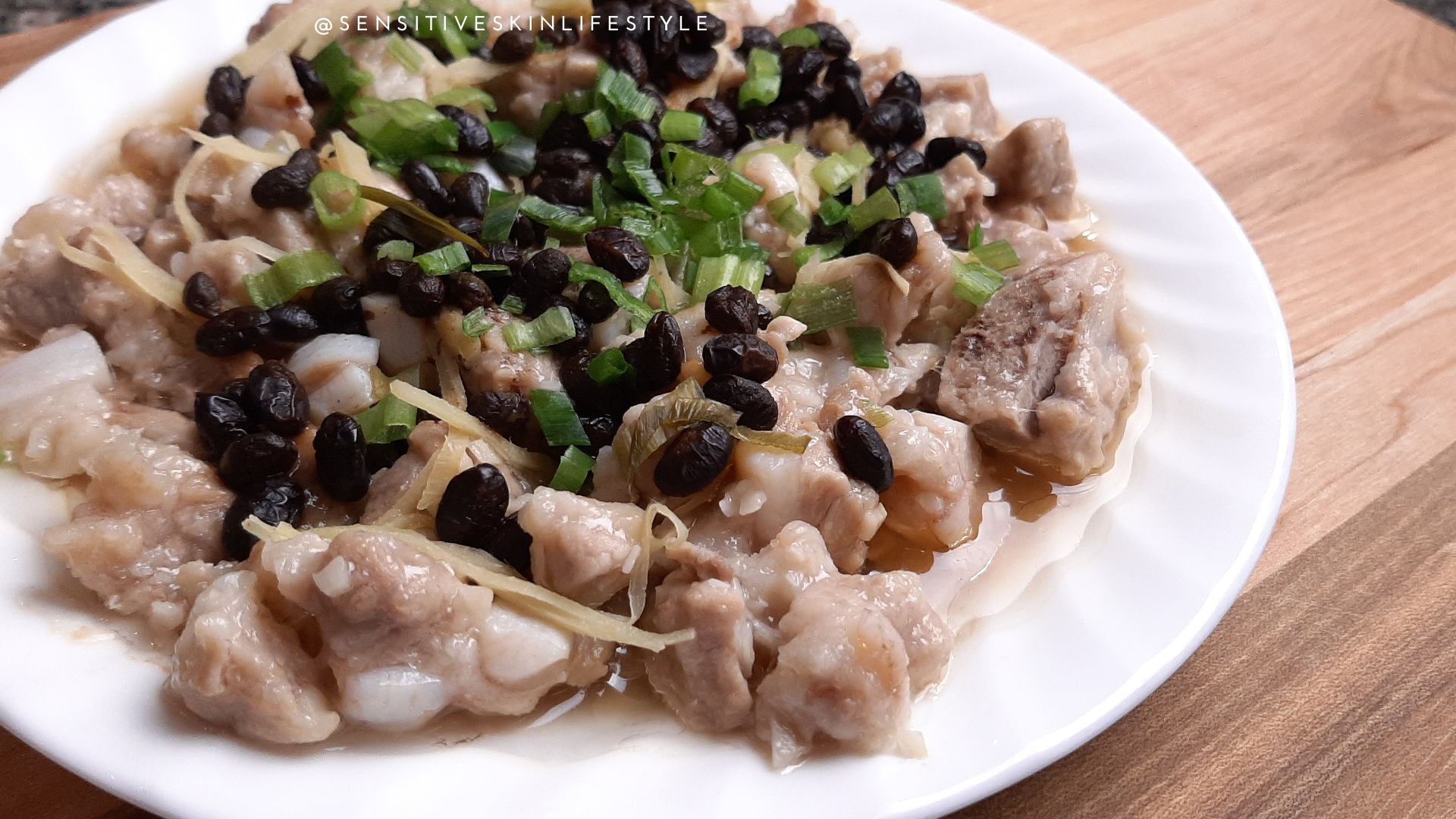 INGREDIENTS (3 servings):
~450g pork baby spare ribs
2 tbsp of Chinese fermented dry black beans, rinsed thoroughly
2 tbsp ginger, peeled + finely julienned
2 tbsp garlic, finely minced
2 tbsp green onion slices
1 tbsp rice wine or sake
3/4 tbsp corn starch
1/2 tsp ground white pepper
1/4 tsp sesame oil
1/4 tsp salt
1 tbsp salt
METHOD:
Cut spareribs into half inch cubes. Cut through white cartilage bones – this will help them soften faster. A good source of collagen!
Rinse spare ribs a few times. then soak it in water + 1 tbsp salt for 1 hr (no more than 3 hr. Then rinse.
Add rice wine, white pepper, 1/4 tsp salt and minced garlic to the spare ribs until well incorporated.
Then add corn starch and sesame oil. Mix until well incorporated.
Place half of the ginger strips on the steaming plate.
Place spareribs on the ginger strips.
Then place the remaining ginger strips on top of the spareribs.
Evenly sprinkle the washed black beans on top of the spare ribs. Do not over lap.
Set up steamer. Once water is boiling, place steaming plate into the steamer. Steam covered for 45 mins.
Make sure to check there is enough steaming water from time to time.
Garnish with green onion slices.
Ready to serve! This goes well with a side of sauteed chinese greens + perfect steam rice or egg noodles (if you are able to have it).
TIPS:
While searching for chinese fermented black beans, I always try to find those without MSG. Here are two that I have found. The organic bottled one is quite pricey almost CAN$10. But the one in the bag is only CAN$1. They feel almost similar to me.